ExpressLRS (ELRS) Receiver
For FPV drones
30mm and 20mm mounting holes - fits on the stack
Supports antenna diversity; includes LNA/PA
Robust GH connector for easy setup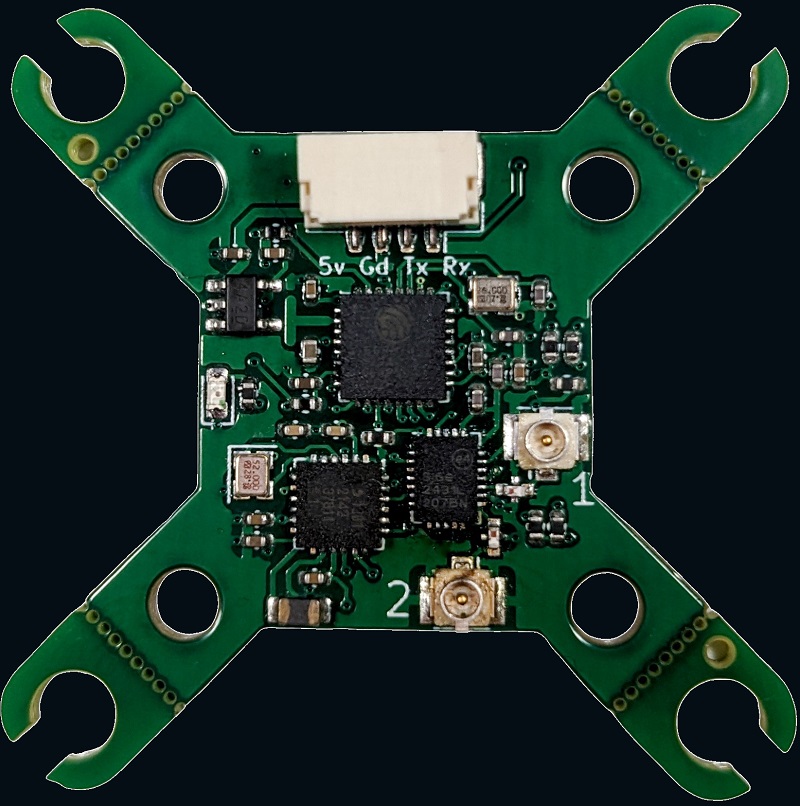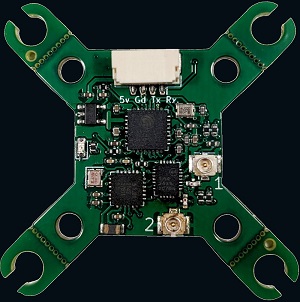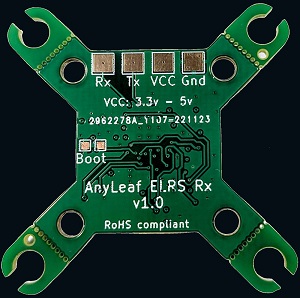 Suitable for full-size quads, and whoops. The 30mm mounting holes are on break-off tabs, for mounting on small frames. Can be mounted on the main stack, or secondary mounting holes (30mm or 20mm) common on 5" quads.
Works with Betaflight, INAV, Ardupilot, and PX4
Compatible with the latest ELRS; comes with ELRS 3.0 installed
Can connect over WiFi to customize, or upgrade to future versions.
Supports ELRS Diversity, with connections to 2 antennas via a multiplexer
Compared to our true diversity Rx, this receiver uses a single radio and PA/LNA, with a multiplixer that switches antennas based on signal strength. This reduces the price, but may not be as robust as true diversity, which uses 2 independent radios and amplifiers.
Includes a Power amplifier (PA) and Low Noise amplifier (LNA)
For improved performance behind obstacles, and for longer range telemetry.
Sturdy GH pin header, and big, clearly-labeled pads
Use either to connect to your FC. Comes with a cable that plugs into the header, and has bare wires on the other end for soldering to your FC.
Includes anti-vibration rubber dampers, and 2 antennas
Radio uses a SMPS DC-DC converter, which saves power
Open source hardware
Schematics, PCB, and production files for AnyLeaf ELRS receivers are open source; you're free to view, learn-from, modify, and produce them. AnyLeaf ELRS hardware files. In the open source spirit of ELRS, we can improve the community by sharing designs.
For details on ELRS, check out its homepage, or our overview article.
Specifications:
Module dimensions: 37 × 37 × 6 mm (31 × 31 mm with breakaways sections removed)
Weight: 4 grams
Mounting holes: 30.5mm × 30.5mm pattern: M3 (4mm diameter, with 3mm grommets). 20mm × 20mm pattern: M2 (3.2mm diameter, with 2mm grommets)
Power input: 3.3 - 7V
Operating frequency: 2.4GHz
MCU: ESP8285
Radio receiver: Semtech SX1280 or SX1281, with DC-DC power
LNA / PA: Skyworks SE2431L
PA telemetry amplification: +24 dBm
Radio timing source: 52Mhz crystal oscillator
Update capabilties WiFi, Betaflight passthrough, UART
Pin header to flight controller: JST GH, 1.5mm pitch, 4 pins
Antenna connector: 2 × IPEX MHF-1
Status LED: Red monochrome
Included cable: JST GH to bare wires