Coming Winter 2022
Ultra-fast CPU
Built-in ELRS receiver
Designed for DJI and HDZero digital systems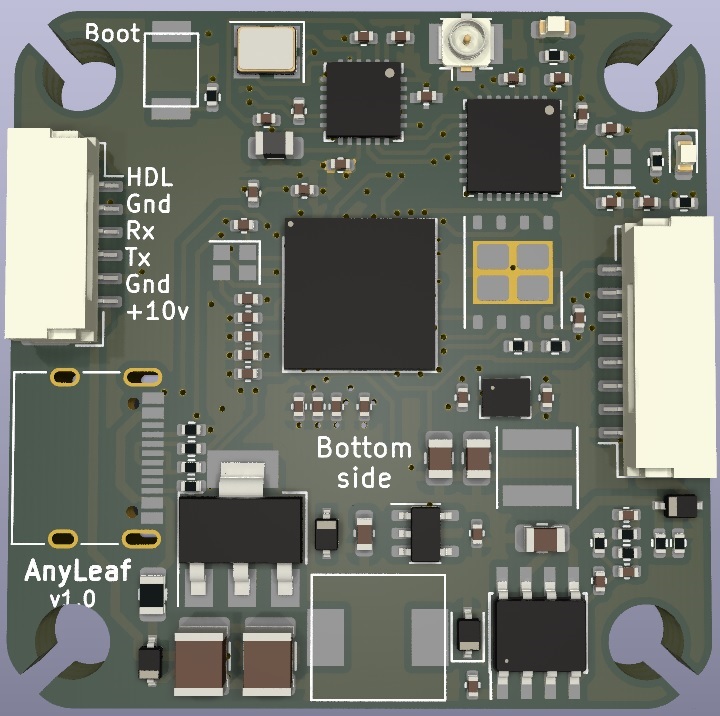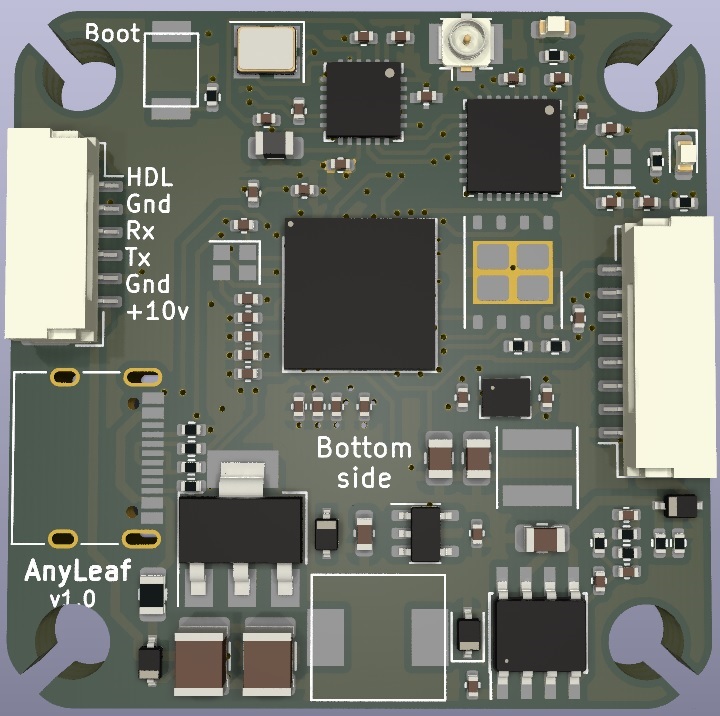 With a 550Mhz H7 processor, this is the fastest FC available.
Uses the ICM-42688 IMU - this is the lowest-noise IMU you'll find on a FC.
Uses a dedicated timing crystal and dedicated power filtering for the IMU, increasing accuracy and reducing noise even further.
ExpressLRS (ELRS) receiver and antenna
With onboard ELRS, you no longer need to buy and mount a separate receiver. Includes a dedicated ELRS chip - this can always run the latest version of ELRS. Comes installed with ELRS 3.0. This is not SPI ELRS!
Plug + play with popular ESCs.
Its included cable connect directly to Diatone ESCs. Also includes a cable with separate header you can wire into other configs. Includes a cable for connecting to DJI digital setups too that plugs into the FC.
Designed to be easy to assemble, with big, clearly-labeled solder pads, and header with pre-crimped wires to connect to a camera and Vtx. There's plenty of room around both sets of mounting holes, so spacers and shock absorbers won't get in the way.
Robust connectors. Uses JST GH pin headers, for easty, robust connections. These sturdy connections are more reliable than the SH connectors used on other FCs.
Suitable for full-size quads, and fixed-wing aircraft.
Includes DJI-digital compatible pin header
Does not include analog OSD support - this is a digital-only FC. Includes a 10V regulator, to provide dedicated, safe power to your Vtx and camera. For an H7/ELRS alternative that supports analog, check out the SP Racing H7 RF.
High-current regulators (aka BEC) for connecting Vtx and servos, with robust power filtering.
Supports up to 3A of current on the 10v line. No need to connect your Vtx directly to the battery; use the filtered 10v regulator. This keeps it safe from voltage spikes and interference. The 5V regulator supports 2A servos.
Compatible with DJI and HDZero digital systems
Compatible with DSHOT-1200, DSHOT-600, and DSHOT-300
Onboard altimeter (barometer), and 64Mb black box flash memory
Features robust power filtering and separation, to reduce interference, and provide smooth sensor readings and control response. The IMU has its own dedicated power filter
Includes anti-vibration rubber dampers
Specifications:
Module dimensions: 37.5 × 37.5 × 8 mm
Weight: 18 grams
Mounting holes: M3 (4mm diameter for grommets). 30.5mm × 30.5mm square pattern
Battery limits: 6 - 26V (2-6S LiPo)
Current limits: 3A on the 10V and 5V lines combined. 2A on the 5V line
MCU: STM32H723 - 550Mhz, 1Mbyte internal flash, 564kb SRAM
IMU: TDK ICM-42688, dedicated 32.768kHz crystal
Barometer: Infineon DPS-310
Storage: 64Mbit "black box" flash: Winbond W25Q64
Power and flashing: USB-C, and SWD
ESC pin header: JST GH, 1.5mm pitch, 8 pins (Diatone layout)
Digital Vtx/cam pin header: JST GH, 1.5mm pitch, 6 pins (DJI layout)
Aux pin header: JST GH, 1.5mm pitch, 4 pins (Wired for I2C)
UART connections: 4 (in addition to Vtx and ELRS)
I2C buses: 2
ELRS radio receiver: Semtech SX1280
ELRS dedicated MCU: ESP8285
Power pad voltages: 10V (3A), 5V (2A), 3.3V