Ultra-low-noise gyro
Built-in ELRS receiver
Designed for DJI and HDZero digital systems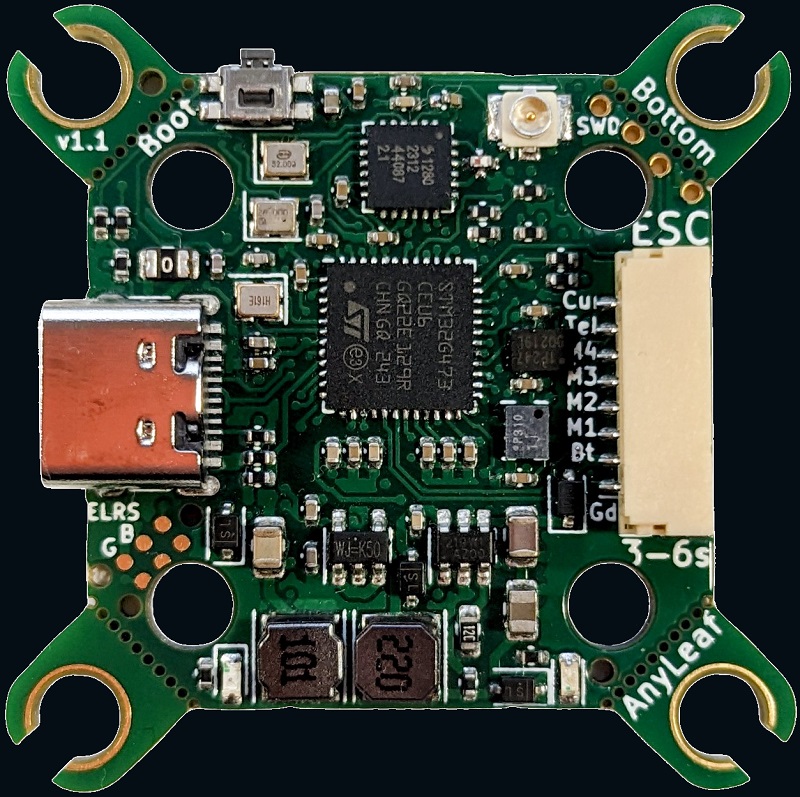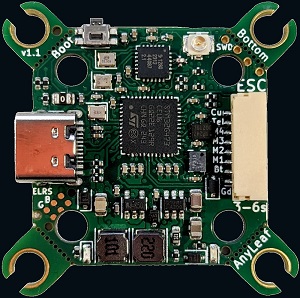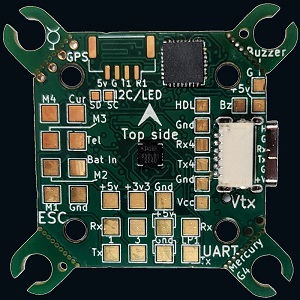 Compatible with fixed-wing drones, if you provide an external 5v BEC to power the servos.
ExpressLRS (ELRS) receiver and antenna
With onboard ELRS, you no longer need to buy and mount a separate receiver. Includes a dedicated ELRS chip - this can always run the latest version of ELRS. Comes installed with ELRS 3.0. This is not SPI ELRS!
Plug + play with popular ESCs, and DJI O3.
Its included cable connect directly to Diatone ESCs. Also includes a cable with separate header you can wire into other configs. Includes cables for digital VTXes, and is compatible with DJI's O3 cable.
Easy to use
Easy and fast to connect, with clearly-labeled connectors and cables for ESC, and Vtx/camera. Uses a sturdy GH header for the ESC. Big solder pads are included as well. The included ELRS radio means one fewer device to connect.
Works with Betaflight
Suitable for full-size quads, and whoops. The 30mm mounting holes are on break-off tabs, for mounting on small frames.
Includes DJI-digital compatible pin header
Does not include analog OSD support - this is a digital-only FC. Includes a transient voltage suppressor to provide dedicated, safe power to your Vtx and camera.
Compatible with DJI Air Unit, Caddx Vista, DJI O3, HDZero, and Walksnail. The included cable is compatible with the connector on DJI O3.
Includes a TVS diode, which blocks voltage spikes
The FC circuitry and attached hardware like VTXs are protected from transient battery voltage spikes. If more than 26V reaches the FC from the battery, current is immediately blocked until voltage is back to a safe level.
Compatible with DJI and HDZero digital systems
With onboard ELRS, you no longer need to buy and mount a separate receiver. Features lower latency than offboard receivers due to a direct connection with the FC computer.
Compatible with DSHOT-600, and bidirectional DSHOT-300
Onboard altimeter (barometer), and 16MB black box flash memory
Features robust power filtering and separation, to reduce interference, and provide smooth sensor readings and control response.
Includes anti-vibration rubber dampers
Connect your ESC. If a Diatone ESC, use the included 8-pin cable with connectors on both sides. Otherwise, use the one with a connector on the FC-side only.
Connect your Vtx and camera. If a DJI O3, you can use the included 6-pin cable with connectors on both sides, or the one that came with your O3. For others, use the one with bare wires on one side.
Plug into a PC that has Betaflight Configurator installed, using USB-C.
Bind your ELRS transmitter by activating its "Bind" function in your radio's ELRS menu. (Or, connect to the ExpressLRS Receiver Wi-Fi network that will appear, to configure a bind phrase)
Open Betaflight Configurator. Configure an arm switch and other modes as applicable under Configurator's Modes tab.
Enable and position your desired OSD items in Configurator's OSD tab. Make sure to include battery voltage, RSSI value, and altitude.
With propellers removed, configure and verify motor assignment and direction on the Motors tab. Enable Bidirectional DSHOT if your ESC supports it. The rest of Configurator will already be set up.
Verify your ELRS transmitter and OSD are working on the Receiver tab, and your goggles respectively.
Specifications:
Module dimensions: 34 × 34 × 6 mm
Weight: 14 grams
Mounting holes: 30.5mm × 30.5mm pattern: M3 (4mm diameter, with 3mm grommets). 20mm × 20mm pattern: M2 (3.2mm diameter, with 2mm grommets)
Power: 6 - 26V (3-6S LiPo)
MCU: STM32G473 - 170Mhz, 512kbyte internal flash, 128kb SRAM
IMU: TDK ICM-42688p
Barometer: Infineon DPS-310
Storage: 16Mbit "black box" flash: Winbond W25Q16
Power and flashing: USB-C, and SWD
ESC pin header: JST GH, 1.25mm pitch, 8 pins (Diatone layout)
Digital Vtx/cam pin header: JST SH, 1mm pitch, 6 pins (DJI layout)
Free UART connections: 3. (UART2 and UART4 are dedicated to ELRS Rx and digital OSD respectively; UART1, UART3, and LPUART1 may be used for external devices)
I2C buses: 1
ELRS radio receiver: Semtech SX1280
Power pad voltages: Vbat, 5V (1.2A current capacity), 3.3V (500mA current capacity)
Voltage limiter: 26V TVS diode